Many guys dread aerobic exercise. It isn't as fun as lifting weights…plus many guys are afraid it is going to make them look like a marathon runner. I don't want to blast marathon runners, but many of those guys are seriously lacking in muscle! I don't like the bulky look, but the skeleton look isn't so good either! Note: I'm not saying that marathon runners are sissies either…that is seriously a tough form of exercise!
If you want to get ripped, you will lose SOME muscle…it really isn't a big deal because 90% of men have plenty of muscle…they just need to get rid of a lot of fat. Don't worry about losing a bit of muscle when you are in the fat burning mode. It is really easy to gain back once you burn off that excess body fat.

So How Do You Burn Off Fat Without Becoming a Complete Sissy in the Process?
You need to become familiar with intense aerobic exercise. You body is smart and will adapt to any type of exercise you perform. If you perform long bouts of low intensity aerobic exercise, then your body will adapt by burning both fat and muscle. Larger muscles hinder your ability to run for long periods of time…that is why you see very few muscular long distance runners.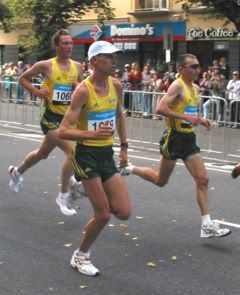 On the other hand…you have sprinters. Sprinters have to push their muscles as hard as possible, to create maximum speed. The body adapts by making the body lighter, but mainly by targetting body fat and not muscle…it needs to keep the muscle for the explosive effort that sprinting requires. Sprinters are ripped, because the body adapts correctly to the type of exercise being performed.
The popular thing amoung trainers is to tell you to perform aerobic exercise at a target heart rate of around 70% of your maximum heart rate and keep it there for 30-60 minutes. I completely disagree! Almost all of the super toned people I know perform cardio at a much higher level.
There is a great strategy to burn body fat called High Intensity Interval Training. It is basically a way to get really leaned and toned like a sprinter. The amazing thing is that this type of cardio workout will help you tone every muscle in your body. It does this by increasing your natural fat burning hormone.
Click Here…and you will be taken to my butt kickin', fat burning, intense aerobic exercise workout (Sorry…I'll come up with a better name soon).
Cheers!