Is it possible that you can burn fat at a quicker rate and increase muscle tone by drinking a few beers per day? Beer lovers rejoice…a recent study has some interesting findings!
Lyle Mcdonald, an authority on fat loss, recently spoke about that a paper that talks about alcohol consumption in people who are consuming low calories throughout the day…
[beginning of excerpt]
"However, in the context of maintenance or below maintenance calories…there is some indication that it might help with leanness.
A recent paper found that 40 g alcohol per day increased levels of a hormone called adiponectin. Released from fat cells, adiponectin is one of the hormones that actually goes up with weight/fat loss. Among other things it improves skeletal muscle insulin sensitivity and activates something called AMPk which is involved in fat burning.
Amusingly in this regards, there is an old diet called the Drinking Man's diet which, as I recall, was lowcarb but based around daily alcohol intake. Perhaps it wasn't so absurd after all.
So alcohol might turn out to be the dieter's big secret." [end of excerpt]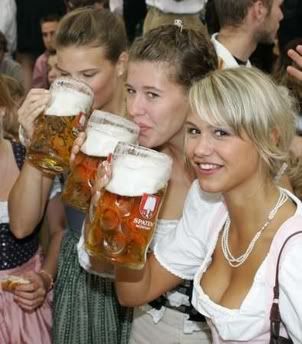 I'm not saying that beer drinking is the best way to get to low body fat levels, but there are people who drink beer on a regular basis and stay lean. I know because I am one of those people. You don't have to deprive yourself of everything fun to get and stay lean!
What is kind of crazy is that 40 grams of alcohol is about 3-4 beers! Keep in mind that each gram of alcohol equals 7 calories…so 3-4 beers would have around 300 calories. You would need to cut back or burn an extra 300-400 calories per day to make sure that you don't consume calories in excess.
Again…I'm sure you see people all the time who have drinks and are lean. Pretty much all of the young Hollywood crowd stays fit while going out for a few drinks. I'm not encouraging excessive drinking, but if you enjoy drinking a few beers with friends…go for it!
You don't have to choose beer or muscle tone…you can have both!
Question Everything!
Rusty